REAL TALK
2021 Planners: To Buy Or Not To Buy
So, I was on the search for the perfect planner (found it here) and (randomly) a follower DM'D me asking how I best organize my life, work, and even meal prep, but to be completely honest, I don't think I have the best system. I use my iPhone calendar and a notebook. I accomplished.a lot with those two simple things. During my planner search, I was watching Youtube videos by Muchelle on how to reset your life for the New Year. She inspired me to reset and prep for the new year, so I wrote a blog post on that if you want to peep that – it will definitely help you focus on yourself and all that you want for the new year or whenever you're ready. But, back to Muchelle. She recommended Notion for planning EVERYTHING and I'm actually writing this blog post in Notion. It's a cloud based site that houses EVERYTHING you're working on. I created a page that will now keep all my blog posts along with my content calendar, content notes, and anything else I want in one place. I lobe that I can see everything a bit better. I had never heard of it, but it's a program that helps you keep EVERYTHING in one place. And, that's what was frustrating about my system, I was using too many applications. I was using GMAIL and all googles clouds to keep my life organized. I would hop over to docs to prep blog posts or youtube videos details, Excel for strategies, and google calendar for content and everyday planning. Technically my content was all in one place, but with notion I can have all of that within view. I haven't figured it all out just yet, but it's pretty easy to use. I am a bit old school, so I do like to write things down. I like a note book to jot down a to-do list and cool planner to help me plan it all. Luckily that planner I shared above does all of that.
While, I was on the hunt for the perfect planner Instagram started to target ads about planners, other apps, and products, so I thought it would be fun to share all the planners Instagram recommended. I'll be sharing another blog post with the apps and services the Instagram recommended too, but this post is dedicated to 2021 planners that you might like.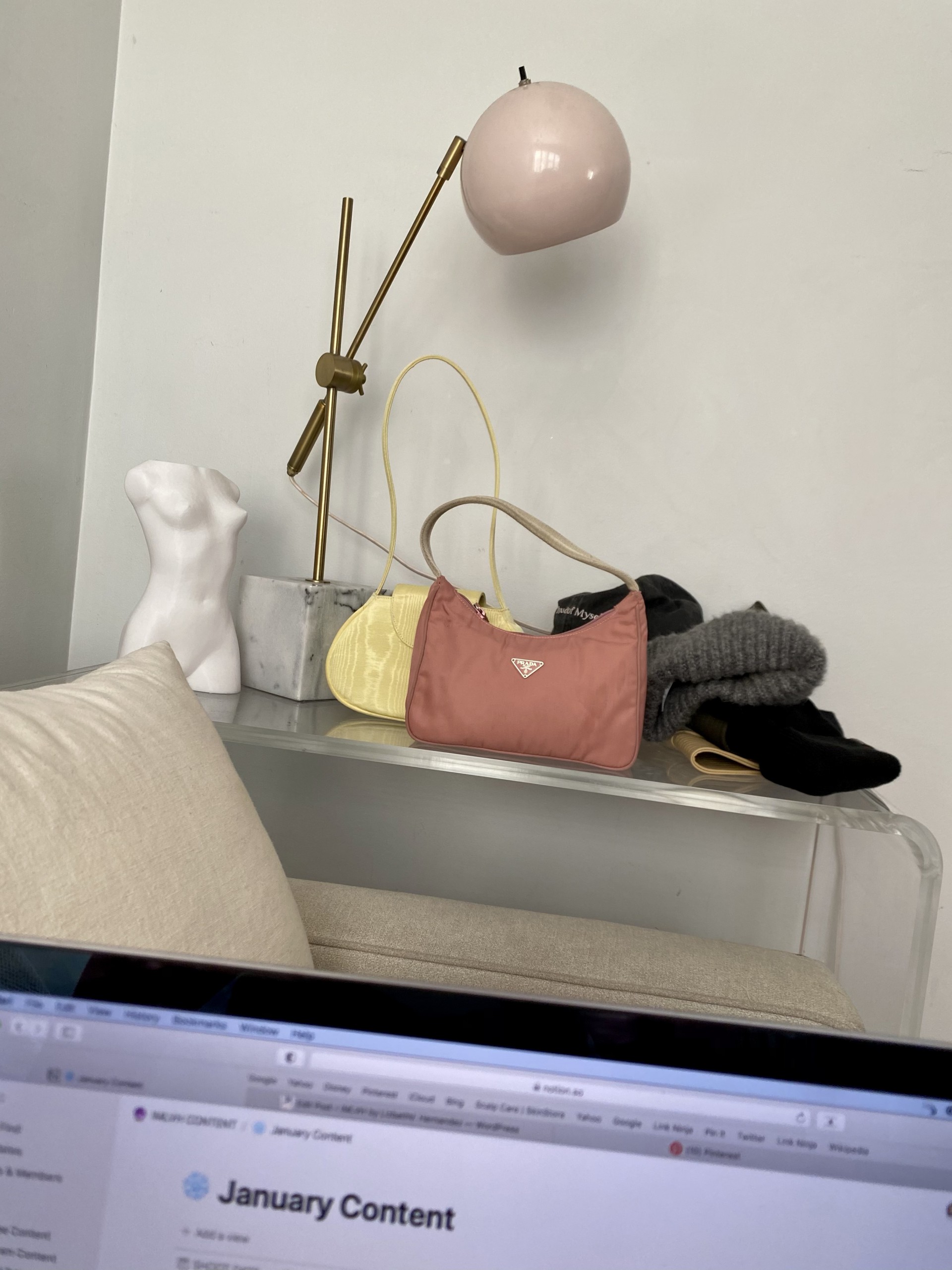 Planners:
Papier: This is the website I ordered my planner from. There are other prints and you can customize them a bit, but I was really happy with the layout and style. I lobe orange and affirmations, so this one was perfect for me. And, if you're wondering why it's not a spiral planner, without fail they ALWAYS bend and the paper starts to fall out on me. This one had a similar lay out to the Vanessa Loder planning I like to do, so that will be nice when I do her lives and it had a meal prep section, which means more recipes for you!! I also went with the Quarterly planner. I feel like have a planner that focuses on 3 months actually makes my goals more achievable and for anything else that needs to be planned out in advance I use my iPhone.
Mochi Things: It's like the Hello Kitty Store for 30 somethings. I mean you can still opt for Hello Kitty (she's my girl), but if you have a lobe for cute stationary and want something that suits your size and color preferences – they have endless options. Plus, they're offering 30% off right now.
Ivory Paper Co: I lobe that this is family run and operated and made in the USA. What really caught my eye is that it had meal prep area. A little section for breakfast lunch and dinner. Also a to-do list and an hourly section.
Full Focus Planner: This one was second on the list, but there were too many ways to track my accomplishments. Maybe that's a good thing? haha It did look easy to use and had some aspects that were similar to Vanessa Loder's system I like.
Getting Stuff Done:  I really liked this one, but I didn't need an exercise, shopping list, or expense section. So, if you need those things, then definitely check this one out.
Stil Classics: I'd say this one is for the babes that like a minimalist and chic vibe. I liked the list break down, because I prefer writing lists for my todo's when I'm planning and mapping out my days, but I didn't like the weekly and monthly breakdown. It's chic and simple, but it was a pass for me.
Enlightenment Planner: This one was super intriguing. The planner is built on buddhist principals, so there is a focus on self-care and making sure your noting down your emotions, meditating,  even focusing on making plans with friends and donating. Helps your stay on the path of enlightenment.  If you need help grounding and making your mental health a priority, then check this one out.
The Intention Year Planner: This is a daily planner and it helps you focus and get stuff done in 4 easy steps, so you can have your best year ever. It looked easy to use, because its simply a notepad, but it was a pass for me.
Talking out of Turn Planner: This planner had it all: habit tracker, monthly and daily planning, dream board, to do lists, notes, water intake, mindfulness tracker and more. The only thing that made me pass on it was that it was spiral bound.  I definitely need to get better at my water intake and tracking habits, but that spiral!!!
Hope you liked this blog post! And, be sure to lmk if you buy one and like it! Happy planning and getting life done!!!
xx
powered by chloédigital