Lifestyle
New Car Organization Tips
I got a new car a couple weeks ago and I made a promise with myself that I will keep it organized. It might be an easy promise for some, especially since it's such a small space, but I will admit it's not the easiest for me!! I'm a fashion blogger, so I have clothes thrown all over the back seat, I'm always on the go, so I eat in my car, and I like to workout, so my yoga mat and gym bag float around. Oh, and for some reason I collect water bottles in my car?! I got a new car, so this disorganization has to stop.
I decided to get the 2018 Chevrolet 'Premier Edition' Equinox. I had a Volt before and absolutely LOVED it. I loved that I only filled up my gas tank twice a month and I got to drive in the carpool lane, without an extra passenger, because it was an electric vehicle. I will admit, this new crossover SUV was much needed. With all my creative work I needed more space, so I upgraded. I hate paying for gas, but it's way roomier and I love the space I have to keep my car organized.
I shared an IGTV video on Instagram about my new car organization tips, but linked my my must-haves below: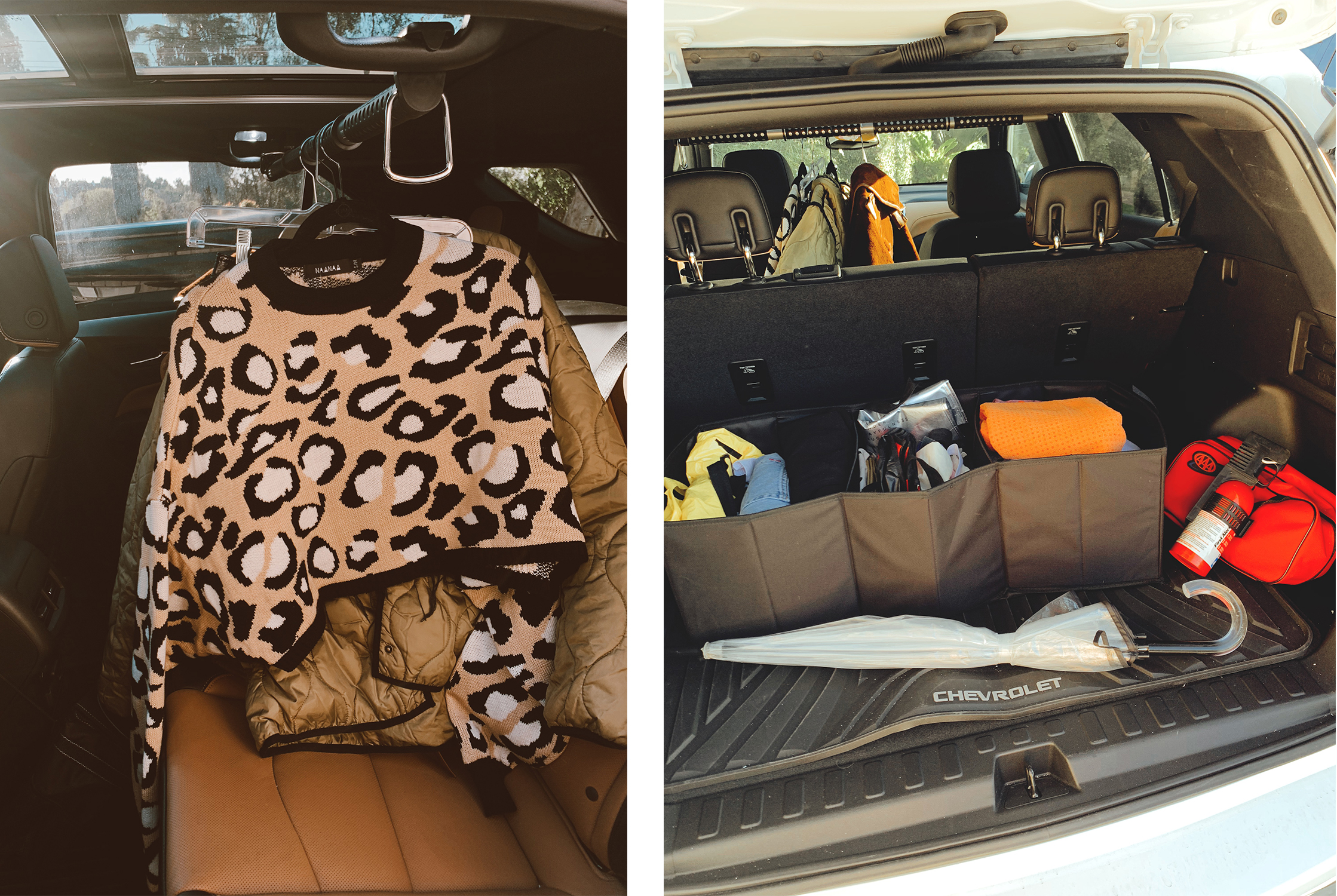 Trunk
Gone are the days that I frantically toss everything in the trunk, so my friends didn't have to sit on a pile of clothes or a collection of grocery bags. I decided I wanted everything to have a place to prevent any mess. I purchased this expandable cargo storage bin to prevent frantic tossing from happening again. One bin holds reusable grocery bags (I HATE FORGETTING THOSE), another for random things, like items that need to be returned or pants that need to get tailored, and the last compartment for towels and blankets. I also have an emergency/first aid kit, a fire extinguisher, an umbrella, and a gym bag with clothes and sneakers in case I want to hit the gym on my way home.
Back Seat
Thankfully the back seat is now for sitting, well kind of. Before it used to seat my outfits that I needed to shoot or had shot, grocery bags, water bottles, and random bags that I carried with with me. Because of the cargo storage bin in the trunk  everything besides clothing has a place in the trunk, but the clothes stay in the back seat. My Dad suggest I get a clothing rack to hold all my clothes. He would see how the clothes would end up in a pile in the back seat of my car after a day of shooting. I ended up taking his advice and found this rack off Amazon for $20. It was the BEST idea and I noticed after shooting each look I was more inclined to nicely hang all the clothes, which made taking the clothes back in my house way easier. I also added a cute little trash can, which attaches to the center counsel. Idk how many times I have little gum and protein wrappers piling up in my cupholder, so this is a nice way to keep the clutter out and trash where it needs to be.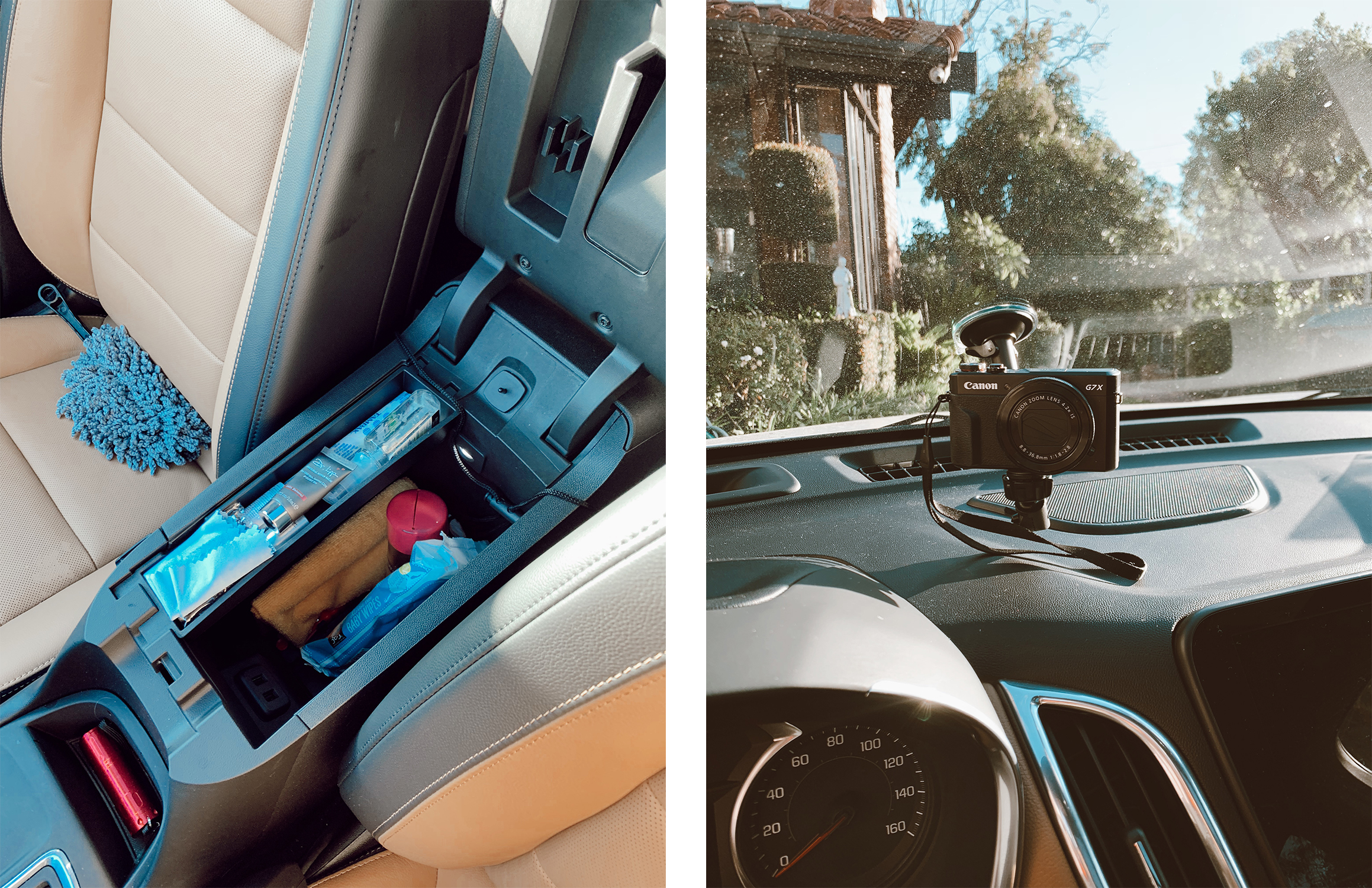 Center Counsel
This is kind of like my beauty drawer. I keep tampons, hand sanitizer, a multi use balm, lotion, wipes, glasses cleaners (cloth + spray) and sometimes a makeup bag, but I get weird leaving my makeup in my car, because it gets really hot in California which will ruin makeup.  I also keep  emergency things in there too. My Mom got me this emergency seat belt and window hammer in case I need to cut myself out of my seatbelt or shatter a window to get out of my car. Sounds crazy, but my Mom is all about preparedness.  I have a charged portable battery in case I forget to put one in my purse or if a friend needs it. This one is solar powered, so if there is no electricity, the sun will charge it and get you out of whatever predicament you're in. I also carry a clear 'change' holder, because in LA we need change for parking meters or I'll keep dollars in there for the occasional homeless I come across. You can also find a towel in there in case I spill, because like I said I'm always on the go, so I tend to eat in my car. I'd even suggest a Tide pen if you're prone to staining your clothes too.
Dashboard
And, lastly the dashboard. It gets really dusty, so I like wiping it off with this dust cleaning brush. I've used wet wipes to clean the dash, but the dust doesn't clean off as nice. I also have a windshield suction car mount to make sure I drive hands free. I hate to admit this, but I've totally been pulled over for using my phone while I was driving. To make sure that never happens again, I got the windshield car mount, but had to buy this extra attachment specifically for my iphone (any phone fits), since the mount is meant for a camera. I totally don't mind that, because I like to vlog for my Youtube channel, so the versatility is great.
I hope you enjoyed this post! These are a couple ways I like to keep my car clean and organized, well the ways I'm trying to. but let me know in the comments below some of the ways you like to keep your car organized and clean too!! I always love learning new things.