I just added these Nike AirMax 270 React sneakers to the collection and I LOBE. I'd been eyeing them for a while and saw them on sale, so bought them. What I really LOBE about them is how light and comfy they are. I wanted to rock with more causal outfits, but they were so comfy, I had to test them out in a workout. To my surprise they were insanely comfortable to work out in too. I lobe a purchase that you can wear more than one way – personally I need more bang for my bucks. If I can't wear a purchase for more than one reason or more than one way, then it's not worth it. Especially during these times. So, trust me, they're worth it – comfy, cute, and great for your next indoor workout or outdoor walk.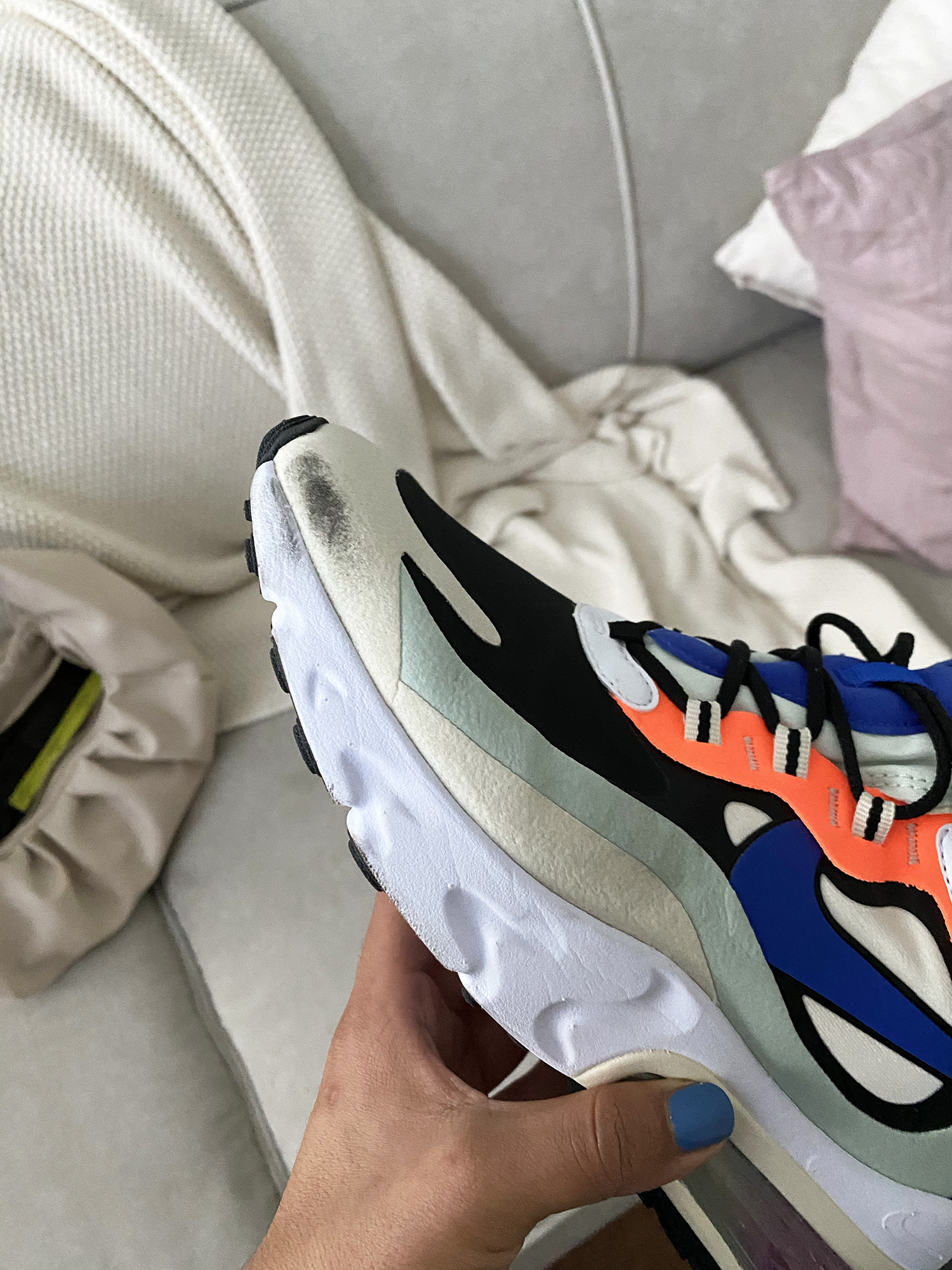 But, the point of my blog post isn't about these new sneakers, but about how I cleaned an intense scuff off them. The sneakers arrived and hours later I scuffed them – the first day!! I read reviews, when I purchased these sneakers that they're sooo hard to keep clean, so I was totally bummed. Then got inspired experiment and to test out Folex carpet cleaner on them. This carpet cleaner is raved about!! It was a recent purchase to remove my Fur-brothers pee stains on my office carpet. My usual carpet cleaner wasn't working, so decided to go for a more intense one and discovered this brand. By intense I mean more effective, so don't worry, it's non-toxic and doesn't smell bad either!
To my surprise Folex beautifully cleaned my sneaker scuff and made them look brand new again!! So, if you have these Nike AirMax 270 sneakers or a pair of sneakers that are too hard to clean, then check out Folex. I read a review that someone likes to put Folex in a travel friendly spray bottle to take with her on the go in case she spills food on herself, so I'll definitely be doing that too!! And, if you want to see how I did it, peep my Tik Tok Tutorial to see the before and after!!