I went out a couple weeks ago and a friend of mine gave me a big hug and said, "You smell so good."
I LOVE perfume and I LOVE smelling good, so it's a compliment I get often. It's almost an OCD thing, which I can admit was inherited by my parents. They like to smell so fresh and so clean clean, so it's a habit I picked up from them.
My perfume Santal 33 by Le Labo usually has a lot to do with why I smell good, but I ran out, so it wasn't responsible for that compliment.
Then my friend said… "Wait, why does your hair smell so good? Did you just get a blow out from Dry Bar??" I chuckled, then responded, "No, I actually haven't washed my hair in 3 days."
She was shook.
You'd think, with my obsession with smelling good, I'd WASH MY HAIR ALL THE TIME… right? Well, I don't. 🙊
I don't have patience time for that. Well, I'm sure I can make the time, but to do the process of smoothing out and wave styling my hair every day takes way tooo long. And, it's too drying/damaging if I wash my hair everyday. Because, my hair is so thick, I'm able to keep a blow dry/hot tool style for a good 3-4 days!! Sometimes 5 days. #blessed
So how do I keep my hair looking fresh and clean 3 to 5 days post blowout?? It's ALL about the products: Dry Shampoo, Hair Perfume, Spray Oils, and for those that like extra wave and texture, Texturizing and Wave Sprays too.
If you really want to know how I keep my dirty hair looking and smelling clean, keep reading.
Step 1 Dry Shampoo (The Must-Have)
This is going to give your hair that just washed look. Dry shampoos come in either powder or spray form and they absorb any oils and sweat in your scalp – bye bye greasy stinky roots. Lets say, you wake up late or just finished a workout and don't have enough time to wash your hair, your dry shampoo will be your savior. Its the best in-between wash product. Annoyingly, not all dry shampoos work well, but below are the one's that work well for my thick and wavy/curly hair, plus they make your hair smell amazing..
🥇Ouai Dry Shampoo Foam – This is my numero uno!! The one that works amazingly. It's a little sketch the first time you use it, because it looks like mousse, but it's a magical water-less cleansing foam that absorbs dirty and oil. The foam adds a little volume and doesn't leave any residue. It's truly magical and works amazingly post boxing workout too. It's Parabens and Sulfates free. And, the scent is a mix of floral fragrance contains notes of bergamot, Italian lemon, Rose de Mai, magnolia, lily, blackberry, violet, cedarwood, amber, patchouli, sandalwood, and white musk. I shared a FULL REVIEW on my youtube channel. P.s. The dry shampoo foams comes in travel size, so I definitely recommend trying the smaller size.
🥇H&M Dry Shampoo – This is actually a natural and organic product by H&M. It only cost $12.99 and I'm so impressed with the powder formulation- it's light, absorbs the oils, and blends in so seamlessly. It's peppermint flavored, so it smells, clean, light and fresh – not like a mint gum at all. But, definitely sprinkle the product in sparingly or else you get that white powder scalp, which is totally annoying.
🥇 IGK Dry Shampoo – This is a paraban, sulfate, and cruelty free product. It's an aerosol spray and very fragrant, so be aware of the cloud of dry shampoo and fragrance you'll be in after using it. Although it is really fragrant, I LOVE that it sprays on clear, which is very rare and a must have for a dark brunette like myself. Most dry shampoos leave a white residue, but this one doesn't!! #winning I'm warning you, this dry shampoo has a fragrance that is bit over-powering, why I really like. Remember, this post is about helping your dirty hair look clean and smell good. I save this dry shampoo for the times I'm pushing a 5th day of dirty hair. It comes in clutch for the crazy dirty days, when I really am being too lazy to wash my hair. It also comes in mini size too!
Step 2 Texturizing Sprays and Wave Sprays (optional)
Not everyone is into beachy texturized hair, but I am, so this step is optional. I don't use hairspray, because it makes my hair dry and frizzy, so texturizing sprays and waves sprays are my version of hairspray. If I'm trying to add a hold to my wave, I use Ouai's Wave Spray and a soft styling pomade to keep the curls in tact, but wave sprays are my go-to. They're also a great way to revive my waves or add an extra effortless beachy cool-girl touch.
🥇 Gisou Wave Spray – This is a recent discovery. I use this wave spray to revive my waves, plus the scent is perfection and super light. It smells like Johnson & Johnson's No More Tears Baby Shampoo and it reminds me of bubble baths my Mom used to give me as a kid. This one is not a super strong scent and does not have a strong hold either, so if your hair holds curls/beach waves well and you're seeking a light and effortless hold for tousled waves, then I definitely recommend the Gisou Wave Spray. I shared a full review on Gisou products if you're interested in learning about their hair oil and heat protectant too.
🥇Ouai Wave Spray – So, this is what I use when I want my curls/waves to have a stronger hold. It's a little bit sticky, but I know it's what helps my wave stay. It is made with rice protein, instead of sea salt, so it's great for color/keratin treated hair. The scent is unique. It's kind of floral and kind of strong, but similar to the dry shampoo foam, because it contains notes of bergamot, Italian lemon, rose de mai, magnolia, lily, blackberry, violet, cedarwood, amber, patchouli, sandalwood, and white musk. If you have curly hair like myself, it's a great spray to use to activate your curls and it comes in a travel size too!
🥇Ouai Texturizing Hairspray – If you're seeking texture this is a good one. It's a bit of a dry shampoo and hairspray, so it's a double duty product. If waves aren't your thing and you like a texture product, I definitely recommend this one. Plus, the smell is good and not over powering. It's a mix of talian bergamot, touches of rose and muget, waterlily, iris, and white musk. And, it's Parabens, Sulfates, and Phthalates free.
🥇Oribe Apres Beach Wave and Shine Spray – This is the ultimate effortless, tousled, beachy hair product. I like that this is a shine spray too, so rather than making your hair dry and frizzy, it actually adds a bit of shine to soften the waves. It's light and one of my favs if you want a more tousled look. This one is a bit pricey ($42), but I first got the sample size from my monthly Birchbox and then ordered the smaller size off amazon.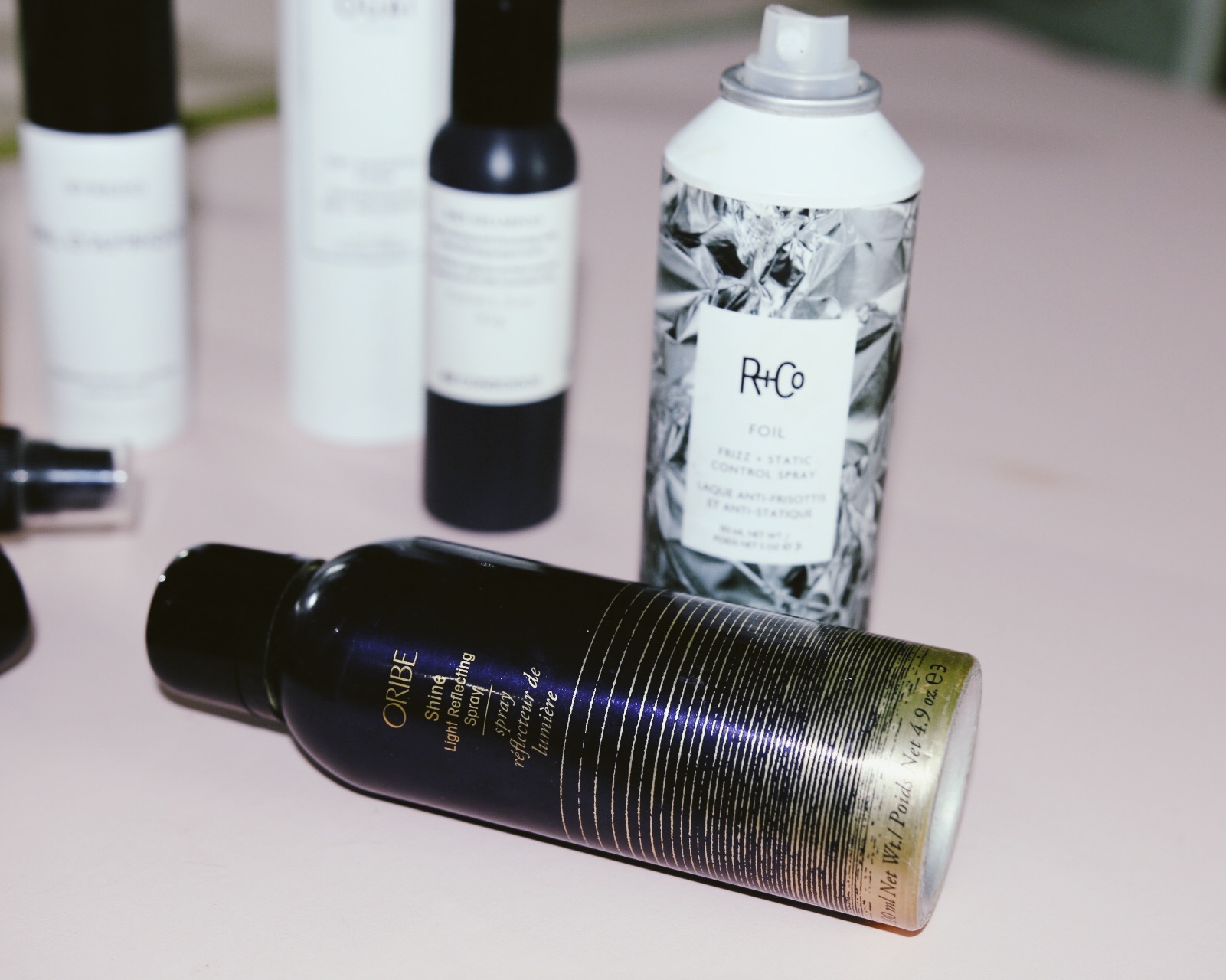 Step 3 Shine Sprays Sprays (optional)
If you have dry, frizzy, or oily hair, I totally suggest a shine spray. It's a great way to combat frizz, without the heaviness of a hair oil/serum. It's the perfect final moisturizing touch for curly hair babes like myself and the perfect product to use when you're running out of the house.
🥇Oribe Oil Spray – This was the first Oil Spray I ever tried and I was hooked. This is definitely a true oil spray, so it feels a little heavy if you spray too much, so I'd definite suggest using a light hand, but it totally takes away any frizz. It's not super heavy, but totally adds beautiful glossy shine. Plus, the scent is sooo nice!!!
🥇R&Co Static Spray – This one totally combats frizz and static-y hair. It's another multi use product: protects from heat, adds major shine, and nourishes the hair. It's also one of my FAVORITE scents as well as vegan and cruelty free. I love that it fixes my frizz and add shine to the beachy/texturized hair I created. I prefer this if my waves are on point, because serum/oil tends to weigh what I've created down.. It's also a favorite shine spray, when my hair is super straight.
Step 4 Hair Perfume (Must-Have)
This is the final step in my Clean Smelling Dirty Hair process!! I normally spray regular perfume in my hair, but I prefer a hair perfume, because they're made with ingredients that protect the hair. I only have one go to and it's by Byredo. I did find some brands that sell hair perfume too, but Byredo is my numero uno.
🥇 Byredo Hair Perfume – I go for the Bal D' Afrique scent. It's definitely one of my signature scents. The scent is light and fresh, but has a little touch of masculine and I love love love it. I also think it's the best way to try Byredo perfume without spending the $150 price for the smaller size perfume. The Hair perfume costs $65 and not only leaves a light veil of scent on your hair, but it nourishes your hair too!
ORIBE Côte d'Azur Hair Refresher – I haven't tried this, but I discovered it, while searching for links for this post. I shared some Oribe products above and a couple weeks ago I learned they have body care and makeup too! I'm obsessed with their Côte d'Azur scent, but now they have a hair perfume refresher. Definitely suggest this based on the scent, but I'll definitely be giving it a try.
I know this is A LOT of product and I don't use each of these products every day or ALL together. I like to mix them depending on my mood and my styled hair's life span. I can definitely shall each of these products have helped me keep dirty hair smelling fresh and looking clean. Hopefully you find some products that can help you.
And, be sure to share your tips and recommendations on how you keep your hair looking and smelling clean! I always love learning about new ways to keep my hair fresh.
xx